2nd. LerNet Project Meeting
Belo Horizonte, Minas Gerais, Brazil, May 22-25 2006
Belo Horizonte - Minas Gerais - Brazil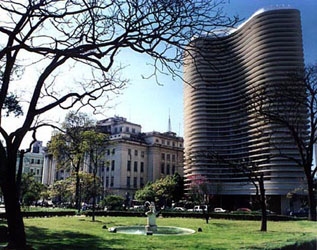 This modern city, which was planned to replace the former colonial capital city of Ouro Preto, offers a complete infrastructure for large events.
Located in central Minas Gerais, next to the State Historical Circuit, the capital city, originally named "City of Minas", was built on the site of the former village of Curral Del Rey. It was inaugurated on 12 December 1897 by Bias Fortes, then president of Minas Gerais (1894-98). Because of the beauty of its horizon, its inhabitants had it renamed Belo Horizonte (Beautiful Horizon) in 1906.
With a population of 2,4 million inside the city proper, Belo Horizonte displays great diversification in its business, industrial and artistic sectors, thereby attracting an increasingly large number of investors. It has also played an outstanding role as a center of excellence in medicine, biotechnology and information technology and has become a popular venue for national and international events.